I'm sure some people are wondering, "What's the big deal? I already have a flashlight." Unless you are super-enthusiast you haven't seen anything like this before. Here are the main features of the lights I'm building.
Lithium Ion rechargeable batteries
Massive power
Pocket sized (1.2" x 5.5")
Looks awesome
You can't just go buy one in a store
Will impress your friends
Custom made, by me
So, I went out the other night to shoot some sample beam shots to compare my lights to some off the shelf lights. Here is the lineup: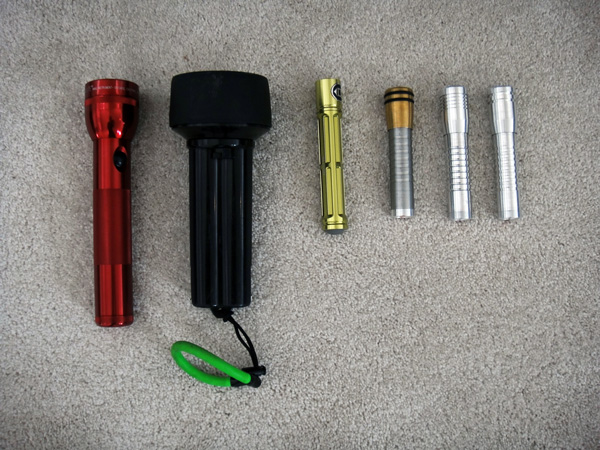 The red light on the left is a standard 2D cell Maglite.
The black light is a "high powered" dive light that uses 6 C cell batteries.
The green light is a production light from Icon. It's a LED powerd by 2 AA batteries. This light is typical of "super bright LED lights" you will find in retail stores.
The three lights on the right are my prototype custom built lights. They use a single lithium ion rechargable battery. Each one has the same LED but different types of optics, which accounts for the different shape beams in the following photos.
Beam shots are after the jump so "read more!"
I went out to this location to shoot my photos. You will see two white posts in the background of the photos. They are 130 feet away. In a later post I'll show another set of shot from the second location on this map.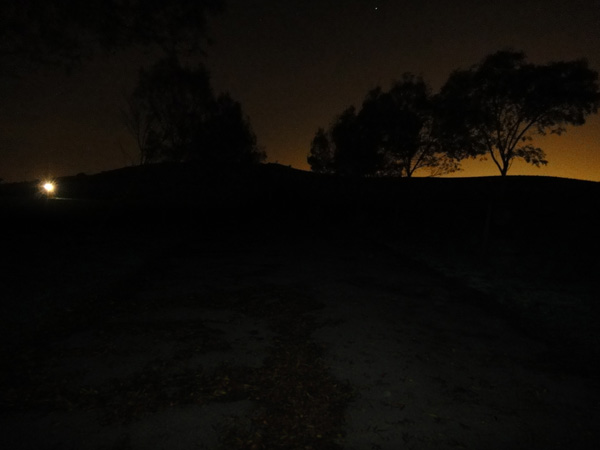 This "control shot" shows the ambient light levels. You can tell the exposures are the same by looking at the light on the skyline.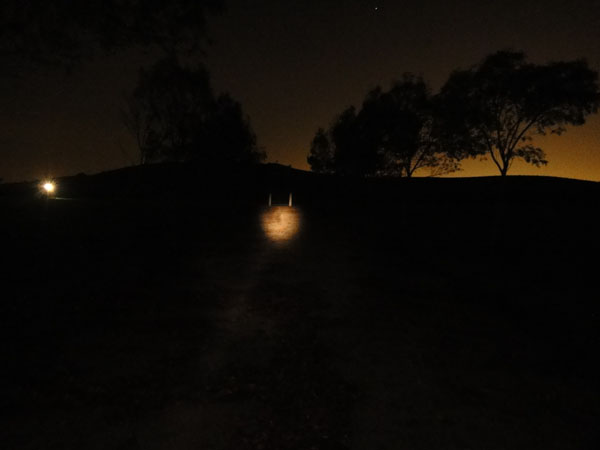 2D Maglite (36 lumens)
This light is rated at 36 lumens of output. Maglites are focusable and this is set to the smallest spot size. If the Maglite is focused to a wider spot, the beam starts to become invisible at these camera settings.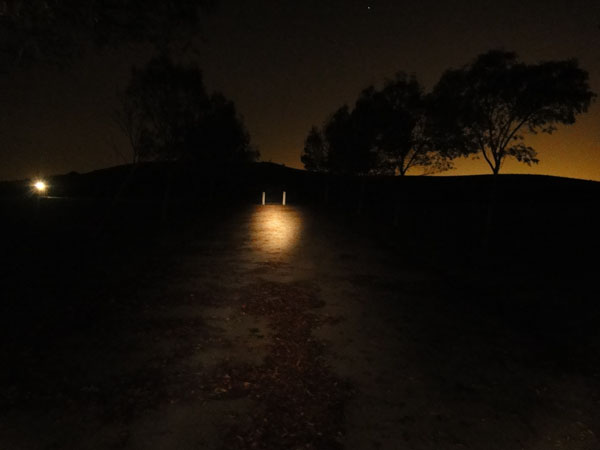 Ikelite 6C dive light (~ 200 lumens)
This light has a very concentrated spot. It easily reaches the white posts. However, there isn't much spill light that illuminates the foreground; nearly all of the light is concentrated into the spot area. I can't find any lumen rating, but I'd guess it's somewhere around 200.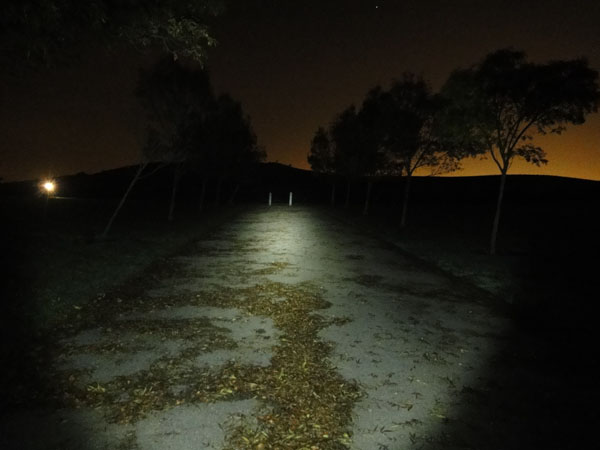 Icon Rogue (100 lumens)
This is one of the newer LED lights on the market from a well known manuacturer. The beam has a good spot and also good spill to illuminate the foreground. This type of light is typical of most "high power" LED lights you will find at hardware stores in terms of both price and output.
Custom MCE Boom (500 lumens)
Boom is the product name of the reflector used in this light. The beam is very broad and smooth, with an area of high concentration in the center. However, this light is considered to be a "flood" type light because of the wide beam. As you can see, this really turns night into day. It's even more impressive in person.
In practice, this light does not have a long effective range (or "throw" as it's known in the industry) but you can see it doesn't have any trouble illuminating the two white posts 130 feet away. This is the reflector and LED that will be used in my first run of production lights.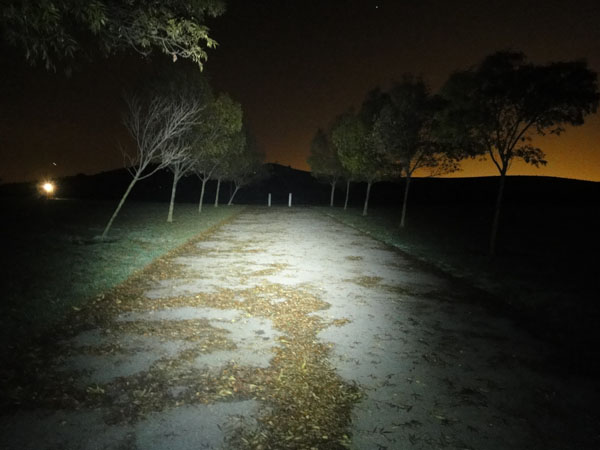 Custom MCE TIR (550 lumens)
TIR stands for Total Internal Reflection. This is a modern plastic polymer optic (a specialized lens) that uses a different light gathering method than a traditional reflector.
The TIR optic has good flood, but more of the light is placed in the center of the beam compared to the boom. This gives better "throw" than the Boom reflector but less side spill.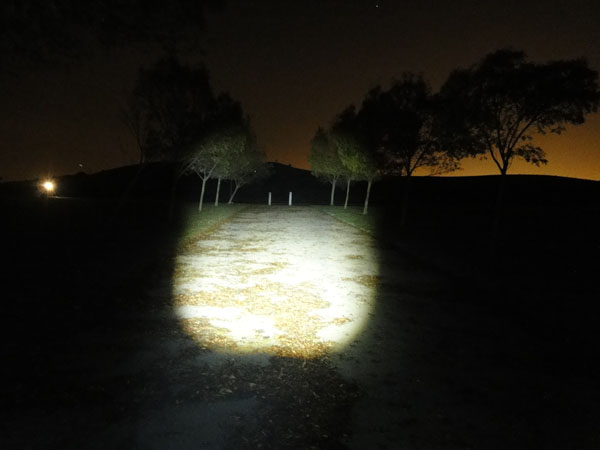 MCE Aspheric (300 lumens)
This is another type of optic called an "aspheric" lens. It functions like a slide projector lens, focusing an image of the surface of the LED at a given distance. This also means that 95% of the light output is concentrated into the center of the beam with virtually no side spill.
This lens has much more throw that the Boom reflector, but that means it's not that effective for "up close" illumination. It excels at medium distance though. If there is enough interest in this optic, I'll also be offering production lights of this variant.
Well, there you have it! I'd love some comments (in general) but specifically regarding if this comparison is an effective demonstration of the power of my custom lights. Is it persuasive in a "case closed" kind of way or do you need more?